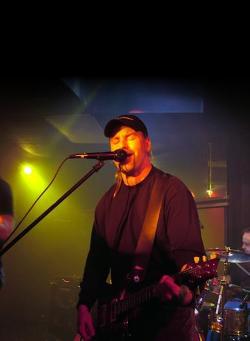 Mark Odom is an award winning guitarist and veteran singer who joined the band in 2009. He

loves playing guitar and singing, it has been a passion of his since his early childhood days of growing up in Austin, Texas. Music has played a huge part of his upbringing, and his original song "That's The Way I Was Raised", says it all. Mark is a former winner of the San Antonio Guitar Wars competition, in which he won an Eddie Van Halen custom Peavey Wolfgang guitar. It proved to him that dedicating yourself, practicing hours upon hours, and being exposed to all types of bands can help shape your own sound.
Mark has played on numerous studio CD's, and has played with some of the top musicians in the region. He has tons of live, studio, and TV exposure, and continues to teach guitar when time permits. Mark has fronted various country and rock bands, and he loves all types of music. Mark can sing and play country, blues, rock, and country with a passion that shows during performances. Like the song states, "Man, I just can't wait to throw myself up on a stage, man, that ain't my style...that's the way I was raised". He is looking forward to seeing YOU at the next show!